Ag Banking: More Options. More Service. More Willing.
At Midstates Bank, we know agriculture
We offer something extra - expertise and insights gained from more than 100 years of combined experience serving generations of farm families and businesses in a five-state area.
---
They've helped us with everything from getting started with the operation to helping us manage it through the tough times and the good times...they've always been there for us.
Travis Sitzmann  |  Farmer, Midstates Bank customer since 2002
---
Learn how we can help you
Midstates Digital Banking is fast, secure, and available 24/7.  Check your balances, make transfers, pay bills, deposit checks, turn debit cards on and off, and more -
all online.
Top-Notch Customer Service
Whether it's your personal, small business, or ag operation finances, you'll be working with a community bank that personalizes everything for you. 
Get to know us better.
Agriculture Loans to keep your operations running.
Loans and lines of credit for real estate, machinery, livestock, operations, and more.  We'll work as hard as you do to keep your farm running - we'll even come to you. 
Learn more.
Values that align with yours.
We make it simple.  Contact an Ag Banker or call us at
1-888-710-9070.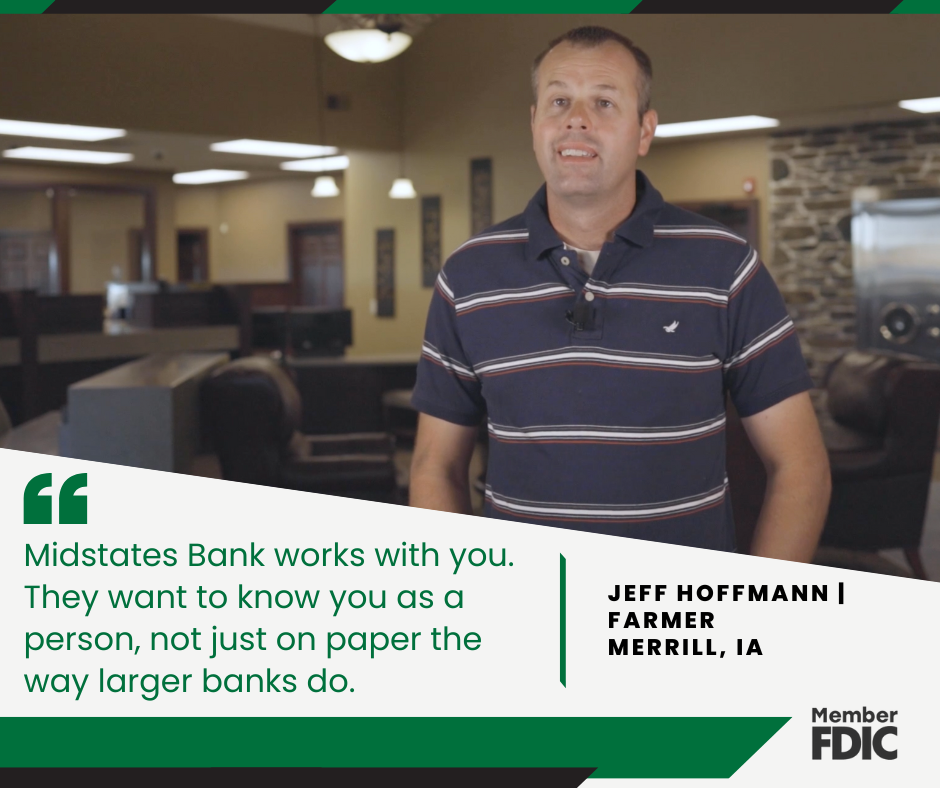 Frequently Asked Questions
How does Midstates Bank contribute to the success of farmers in our region?
We help local farmers by ensuring easy and reliable access to capital. We do this by providing loans and lines of credit tailored to the specific needs of our ag customers: helping them purchase equipment, livestock, seed and fertilizer, as well as and much-needed upgrades from one season to the next. The more we can help our local farmers to prosper, the more we help strengthen and grow the economy for our entire region.
What does Midstates Bank do that's different from larger, out-of-state banks?
First, our officers, lenders, and staff live in the same communities that our customers operate in. Not only does that help us to develop an intimate understanding of the needs of our customers, it also enables us to make decisions and process applications quickly, empowering our customers to get the resources they need when they need them.
Additionally, our representatives are able to come to YOU, rather than requiring you to take time out of your day to come to us. That means you don't have to interrupt your schedule when applications or paperwork need to be filed. We do this because we understand that time is of the essence to farmers working against the clock to bring their products to market – so we will do everything in our power to ensure your success from one season to the next.
What other resources does Midstates Bank offer to help farmers to manage their day-to-day finances?
Midstates Bank has invested heavily in its infrastructure and technology to ensure that our ag customers have the resources they need to manage their accounts on their own schedule. That includes Mobile and Online Banking to enable you to check balances, transfer funds and more, all from the convenience of your smartphone, tablet or computer. Doing so ensures that you can manage your account anywhere, anytime, without having to take time out of your busy schedule.
Hear from our President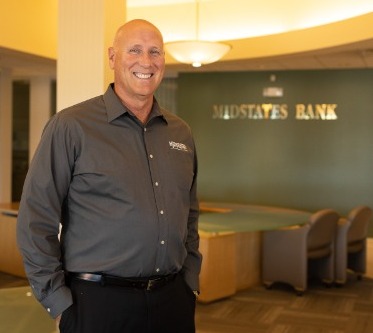 During my 35 years at Midstates Bank, I've talked with a lot of customers and answered a lot of questions.  The one that keeps coming back up is, "What makes Midstates Bank not just any community bank, but YOUR community bank?"
We are locally owned and operated, even as we've grown into a $640 million institution.  We have local leadership at each of our 10 locations across western Iowa - Avoca, Council Bluffs, Harlan, Kingsley, Le Mars, Minden, Missouri Valley, Mondamin, Neola, and Sergeant Bluff.  That means you're able to engage with decision makers that live and work where you do, and that make investments in your community.
Our team members do more than just show up to work every day - they show up for you, participate in local charities, school and business boards, and volunteer to help keep our communities great places to live and work.
A community bank is the backbone of the community in which it operates. Everyone at Midstates commits to that principle by developing personalized solutions for all our customers - personal, small business, and agricultural. We pride ourselves on providing stability to the customers and communities that have come to rely on us. We hope to help you achieve your goals.
Sincerely,
Mike Kenealy
President


Join the thousands of Iowans who have chosen more options, more service, more willing - by banking with Midstates Bank.
Midstates Bank is a full-service financial institution with branches throughout western Iowa.