Our financial tech makes short work of payment collection
Your business exists to generate revenue. But to maximize profits, it's important that incoming funds get routed into your bank accounts with minimal hassle or delay. Leverage our deposit solutions to streamline daily operations and move money securely while creating other advantages for you and your team.
Automated Clearing House (ACH) Debit Payments
Collect payments electronically and have them routed straight to your accounts
Reduce staff time and energy check spent on check processing
Pre-authorized payments automatically debit from client and customer accounts, increasing percentage of on-time payments
Eliminates chances of incoming checks being lost or delayed in the postal mail
Improves cash flow by providing greater consistency as to when revenues will arrive
Remote Deposit
Special scanning system installed in your workplace to streamline the deposit of incoming checks
Simply scan in checks at your staff's convenience and send images to bank through office computer network
Send checks any time of day and in small or large batches
Improve cash flow with expedited deposit of funds into your accounts
Easily generate a detailed summary of each day's deposits
Access archives of past checks or all payments from a particular party
Eliminate daily, time-intensive trips to the bank to make on-site deposits
Merchant Services & Credit Card Processing
Customized hardware and software that helps you accept and process all payment forms
Point-of-sale and mobile processing solutions available
Increase overall sales by accepting all major credit cards, most debit cards, and many gift and government benefit cards
Upgrade web sales with e-commerce solutions
Faster processing puts accessible funds in your accounts more quickly
Easily generate sales reports that can be used for everything from marketing campaigns to inventory control
Our representatives are readily available for customer support whenever you have a question
Midstates Bank is a full-service financial institution with branches throughout western Iowa.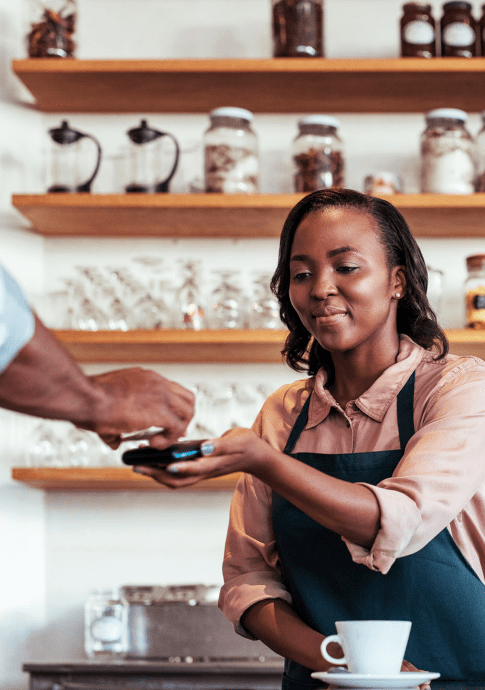 Simplify your payment processing

.





Enhance the customer buying experience in person and online with our Merchant Services point-of-sale (POS) systems.